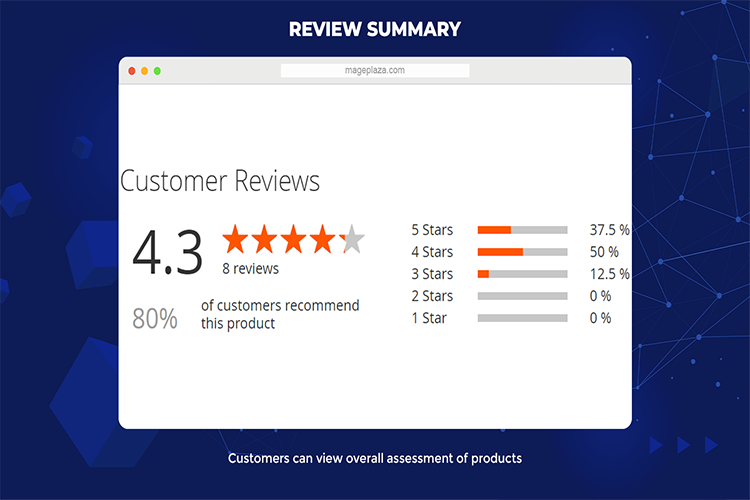 Important of Product Reviews in ecommerce site in Magneto 2.(must need product reviews in ecommerce site.)
A 'product review' is an evaluation of a your product or service or an event. Typically customers who purchased the service/product from your store are encouraged to leave a review on your site.  In addition to a critical evaluation of the product/service, the review's author may assign a rating usually 1 to 5, graphically shown as stars.
Product reviews are essential to drive your site traffic and sales and also it gives very valuable vital piece of information to people who are trying to buy similar or same products. We listed here main reasons why your ecommerce site should have a 'Product Review'.
Increase Sales
Customer confidence to complete a sale increases when the customer reviews any similar users who have bought a same item.
The number of users who have bought a similar item and the percentage of positive or negative feedback. The more the positive feedback the quicker the decision to by the item.
Just Imagine if you are in a physical store the first question you ask the service representative is
How many similar Products have been sold?
How if the feedback from customers who bought the products?
How many returns were there?
Already bought and recommended products sell fast
The product reviews can be designed so that you provide customer more recommendations on existing product.
Customer likes to compare products before the final purchase.
You can design your ecommerce based on data trends to quickly identify the trends for different customer with similar purchases.
Improve Sales (Marketing) power of a product.
No matter how much you speak about the product a customer testimonial/Review makes all the difference in your Marketing.
Build trust, loyalty with customers.
The more the product reviews the better the Site improved in Trust.
With the advent of new we technologies website appearances are changing day by day.
Quick decision making for customer.
Customer would always try to complete the purchase as soon as they like the product.
Product Review enhances the buy ability quotient of the product.
Customers can upload the photos and give a visual experience of the product. Preferable to add Photo, video.
The real photos would place the product where the customer anticipates them to be. Visually customer can make the decision in terms of Size, colour and appearance and quickly assist in buying process.
Bad Reviews can be analyzed with suppliers and improve the quality check
Data can be analyzed for the products with Bad Reviews and Returns and make quick improvements.
Thank you..
Kalpesh Chavada
Kalpesh Chavada is Our Founder & CEO of Akshar Group Technologies. He is serving with 11+ years of experience in different technologies like Magento, WordPress, Laravel, jQuery, Shopify, Branding, and Digital Marketing. He is very good with creative logic and always ready to take on challenges.