What Is Laravel?
Laravel Is a Web Application Framework.
Laravel Is an Open Source Framework is Written In PHP.
How To Create Laravel Project ?
There Are Two Way To Create Laravel Project.
My Project Name Is OnlineShopping.
Laravel New OnlineShopping
Composer create-project Laravel/Laravel OnlineShopping
Laravel Folder Structure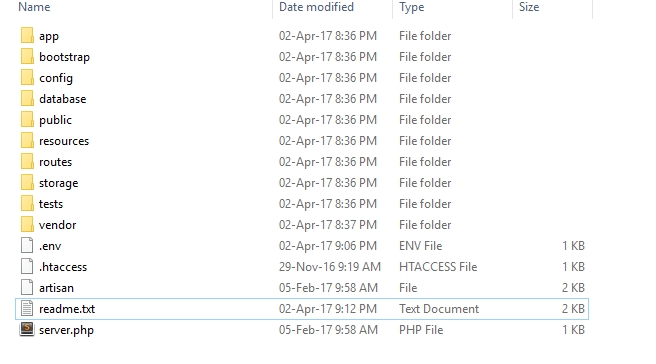 App :-
The App Directory Contains The Code Of Your Application.
Ex. Models, Controller Etc.
      Bootstrap :-
The Bootstrap Directory Contains The app.php File Which bootstraps The Framework.
Cache Directory Also In Bootstrap Folder.
      Config :-
The Config Directory Contains All Of Your Application Configuration Files.
      Database :-
The Database Directory Contains Of Database Migrations, Factories, And Seeders.
      Public :-
This Directory Contains Your Assets Such As Images, JavaScript, And CSS.
      Resources :-
This Directory Contains Your View(.blade.php) Files.
      Routes :-
This Directory Contains All Of The Route Definitions For Your Application.
Web Files, Api Files, Channels, Console.
      Storage :-
This Directory Contains Your Logs, sessions, file caches, and other files generated by the framework.
      Tests :-
This directory contains your automated tests.
      Vendor :-
This directory contains your Composer dependencies.
How To Run Laravel Project?
Laravel Project Using This Command
Kalpesh Chavada
Kalpesh Chavada is Our Founder & CEO of Akshar Group Technologies. He is serving with 11+ years of experience in different technologies like Magento, WordPress, Laravel, jQuery, Shopify, Branding, and Digital Marketing. He is very good with creative logic and always ready to take on challenges.